entirely of women and girls and at least
several band reflecting the strong sense
of community in Minnesota's Indian
reservations.
Very few of Minnesota's original
community bands are still in existence.
But they do include two such groups
tat graciously share claim to being the
state's "oldest continuously operating
community bands"- the Meire Grove
City Band (1883) and Carlisle Band
(1894). They celebrated their long
histories at a joint appearance during
Greenwald Barley Days in 2005.
The bands trace their origins to
early settlers, beginning with Germans in
1858 in Meire Grove (Stearns County)
and Norwegians in 1869 in Carlisle
(Otter Tail County). Today both bands
include musicians who are direct
descendants of those early pioneers.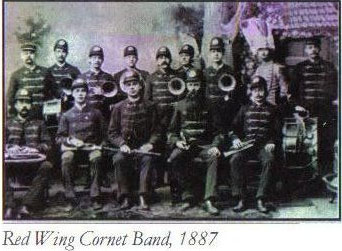 The city of Chatfield, in the State's
southeastern corner, is alos an important
part of Minnesota's rich legacy of
community and town bands. the first
Chatfield town band was organized in
1882. Three years later, the Chatfield
town council set up a tax levy to fund
summer band concerts, a civic
commitment still in place today. Like a
lot of its contemporaries, the original
Chatfield band dissolved, but was revived
in 1969 and still performs regularly as the
Chatfield Brass Band.
the band's director, Jim Perkins,
later founded the chatfield Music

Lending Library, which serves as a
resource to community bands
throughout the country and world.
the library has collected and
cataloged more than 5,000 works of
music, many no longer in print. In
1978, then-Governor Wendell
Anderson proclaimed Chatfield
"Bandtown USA." In 1983, the
Chatfield Post Office received
permission to use a special
cancellation stamp reading
"Bandtown USA."
Early town bands were not all
associated with small rural
communityes. The Robbinsdale City
Band was founded in 1906 when
Robbinsdale was a smal community
on the northwestern edge of Minn-
eapolis. Its citizens were eager for the
community to grow and the town
band became a tool to promote that
growth. Members of two local
families organized the first dozen
members into what was then know
as the Robbinsdale Civic Club Band.
Robbinsdale City Band became
well-known as both a marching and
concert band. the band celebrated its
centennial in 2006 with a concert
featuring two newly commissioned
works, one by it director, Michael
Serber, the other by Minnesota
composer Shelley Hanson.

Town bands decline; school
programs flourish

Unfortunately most
community bands did not enjoy the
longevity experienced in Meire
Grove, Carlisle and Robbinsdale.
Across the country, community bands
experienced a significant decline in
interest after the end of World War I
- through the Great Depression and
World War II.